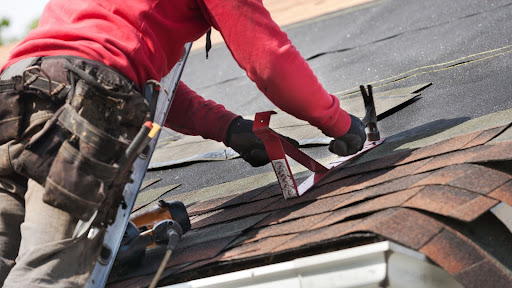 Your roof is your front line of defense against the outdoor elements. When it can no longer hold back those elements, it will start presenting numerous unpleasant symptoms: mold growth, loss of structural integrity, and high utility bills. Roof malfunction causes home and commercial property owners headaches and damages, demanding immediate attention. So, contact a local roofing specialist if you notice any signs your roof is damaged or has reached its life expectancy.
McLean, VA, residential and commercial property owners can turn to Augustine Roofing for comprehensive roofing services. Employing only the most experienced and qualified professionals, we guarantee your home is in good hands. Our team delivers reliable, high-quality roof inspections, repairs, and installations. To learn more about our roofing service options, call (703) 281-7663 today!
Below, we detail 5 signs your roof requires professional services:
1. Roof Sag
When first installed, your roof was likely as straight as an arrow (if not, the installers erred). Therefore, a curving or wavy appearance months or years after installation indicates your roof is sagging and requires professional maintenance. Roofing sag speaks to weathering, which may arise due to water damage, weight, old age, or improper roofing services. If left unaddressed, such a sag may quickly devolve into structural failure or a costly roof replacement.
2. Watermarks on Ceilings and Walls
Roof leaks or penetrations that allow outside elements inside are hazardous and necessitate a roofing specialist's expertise. Water discolorations on your ceilings and walls suggest that water has seeped through multiple building layers, including the roof shingles and attic. The excess moisture can prompt mold growth and rot load-bearing materials, undermining occupants' health and building stability.
3. Granules in Gutters
Asphalt shingles have granules embedded on their surface that begin to shed with age and damage, often collecting in gutters. When this occurs, it signifies that shingles are breaking down and incapable of protecting your roof. No matter the cause, excessive granules in your gutters call for a roof inspection by a certified roofing specialist to ensure the safety of your building.
4. Torn or Lifted Roof Materials
Following high winds, it's not unusual for roofing materials to tear or lift. Asphalt shingles are usually the first to incur wind-related damages, but a powerful storm can lift metal panels and rubber roofing materials as well. If roofing materials are moved or missing after spouts of high-speed wind, you should turn to professionals for prompt repairs.
5. High Utility Bills
Damaged roofs erode the effectiveness of home and commercial property insulation, resulting in abnormally large energy bills. Damaged shingles fail to reflect heat, and gaps in your roof allow climate-controlled air to escape. Your HVAC system must then work longer and harder to compensate. If your energy usage has climbed, you should seek a home or commercial roofing specialist to conduct a thorough inspection.
Trusted Roofing Specialist in McLean, VA
Augustine Roofing offers comprehensive roofing services to Mclean, VA, property owners. Our skilled roofing specialists take pride in delivering top-tier products and installations to residential and commercial property owners alike. Whether you need inspections, repairs, or installations, our team is well-equipped for the job. Call us at (703) 281-7663 to get a free estimate on your next roofing service!