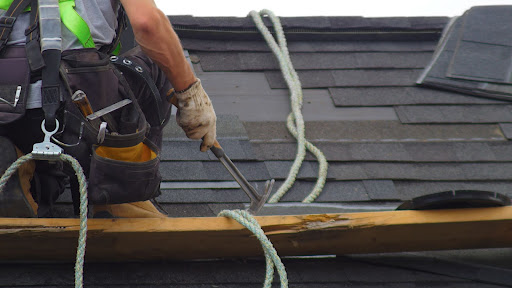 Damaged roofs can cost up to $7,000 to repair, yet the symptoms of roof damage can be elusive. Moreover, the longer a roof deteriorates, the higher the repair cost. Nevertheless, you can learn to identify the symptoms—including granule loss, damaged and missing shingles, and leaks—so you know to call a professional roofer for an inspection. Once you've had help identifying your roof's ailments, schedule home roofing repairs.
Augustine Roofing offers this service to homeowners in Centreville, VA, along with roof installations, replacements, and more. Our team upholds the highest craftsmanship and customer service standards—just look at our glowing reviews! For a free roof installation project estimate, contact us today at (703) 281-7663.
Below, we discuss signs of roof damage and the need for repair:
Granule Loss & Clogged Gutters
Most shingles have a sandpaper-like protective layer of granules. After prolonged exposure to the elements, these granules gradually loosen. So, check the ground surrounding your home from time to time. If your roof is shedding granules, it may be due for repair.
A more distinct symptom of granule loss is clogged or leaking gutters. Rather than exiting through the downspout, rainwater will overflow the gutter system due to granules collecting therein. This overflow can cause significant damage to your home's siding and foundations. In this case, you may need gutter screens or new gutters installed.
Damaged & Missing Shingles
Cracked, curled, or otherwise broken shingles are often the most noticeable signs of roof deterioration. Indeed, many such damages are apparent from the ground, unsightly blemishes that also provide an entryway for moisture.
Call professionals to replace missing shingles immediately to avoid significant structural problems, including water damage, wood rot, mold, mildew, or other issues. If just a few shingles are damaged, roofers can make spot repairs. However, widespread damage may entail a complete roof replacement.
Water Damage & Leaks
Ask your roofing contractor to examine your attic as well. Noticeable water damage and stains in your home's interior may stem from this space, though less salient symptoms—those only a professional could identify—may be present.
Water damage is a common sign of roof damage and a prolonged leak. Leaky roofs can lead to more significant issues, including ruined insulation and wood structure failure. Thus, have your roof fixed as soon as possible.
Schedule Expert Roofing Repairs for Your Centreville, VA, Home
Augustine Roofing implements professional roofing repairs on Centreville, VA, homes.
Our experienced roofers have trained eyes for hidden damage and minute details—many of which can only be assessed from your rooftop. Once we identify the problems, we'll provide quality, fast roof repairs. For a free estimate on your next repair, call Augustine at (703) 281-7663.