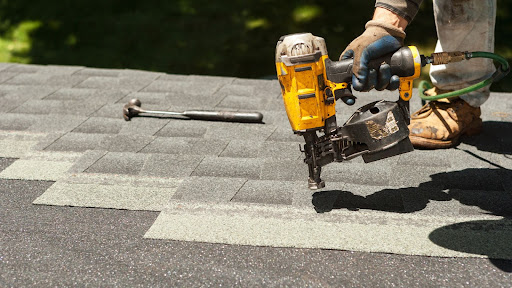 Choosing a roofing material may seem daunting due to the sheer diversity of options. However, this variety also means you have a great chance of locating the perfect choice for your stylistic, environmental, and sustainability needs. Moreover, a professional roof replacement with a suitable material—asphalt, metal, or otherwise—can elevate the value and appearance of your home. So, every homeowner should consider the weight, color, and installation specifications when selecting a material for their roof.
South Riding, VA, homeowners can turn to Augustine Roofing for roof replacement, repair, and gutter installation services. Thanks to our 30+ years of experience, our team can turn your dream roof into reality. Our expert roofers work on projects of all sizes and pride ourselves on exceptional customer service. Call us at (703) 281-7663 for a free estimate on your next roofing project.
Below, we describe the various roofing materials to choose from:
Asphalt
A popular and economical option, asphalt shingles are compatible with most roofs. These shingles complement most suburban homes due to their array of color variations. Nevertheless, this material has a relatively short lifespan, especially when exposed to harsh weather conditions.
Some manufacturers and contractors can custom asphalt shingles for increased durability. For instance, a roofing service can strengthen asphalt shingles using a protective layer of fiberglass, which helps the material endure.
Slate
A sleek material that furnishes homes with an elevated appearance, slate comes in dark colors such as gray, black, and even crimson. While more expensive than asphalt, slate is much more durable and fire-resistant.
Slate works best with French-chateau, European, or Colonial-style homes. Thus, homeowners with a modern or rustic property should consider how this material gels with their architecture. We suggest consulting roofers to determine if slate suits your roof. In addition to stylistic concerns, roofers must incorporate extra framing on the slate during installation.
Concrete or Clay
Although the heaviest materials on this list, clay and concrete tiles can give your roof a unique and durable appearance. More specifically, the former options can be molded flat, scalloped, curved, or ribbed. On the other hand, concrete tiles come in the same shapes at a lower price.
Concrete and clay roofing work well with brightly-colored homes. Moreover, the materials suit most Spanish-style, Mediterranean, and Southwestern-inspired homes. Contact a professional roofing service if you're interested in this material for your roof. The weight of clay and concrete necessitates a professional home inspection before installation.
Wood
Wood is popular among homeowners due to its affordability and lightweight quality. Distinct from slate and asphalt, wood doesn't require additional support. Installation costs are also low for wooden shingles or shakes because the material is easy to work with.
That said, homeowners should remember wood's flammability and susceptibility to mold. Class A fire-rated wood is treated with fire retardant to withstand exposure. Yet significant humidity and rain may cause it to rot or split, so you must inspect it regularly.
Metal
Copper, stainless steel, or aluminum work well as metal roofing. These materials are strong, lightweight, and weather-resistant. A metal roof can effectively reflect sunlight away from your home in the summer and keep indoor temperatures cool. It's compatible with many cabins, cottages, and contemporary-style homes. These benefits come with a cost, though: metal is one of the most expensive roofing materials on the market.
Roof Replacement Services Available Now in South Riding, VA
Augustine Roofing can help you select the best material for your roof and install it with ease. With decades of experience and excellent customer service, Augustine Roofing stands out among the best roofing companies available to South Riding, VA, residents. Our team has the knowledge and equipment to provide high-quality results. Whether it's a roof replacement or professional gutter installation, our team can meet your needs. Call us at (703) 281-7663 to start your next roofing project today.