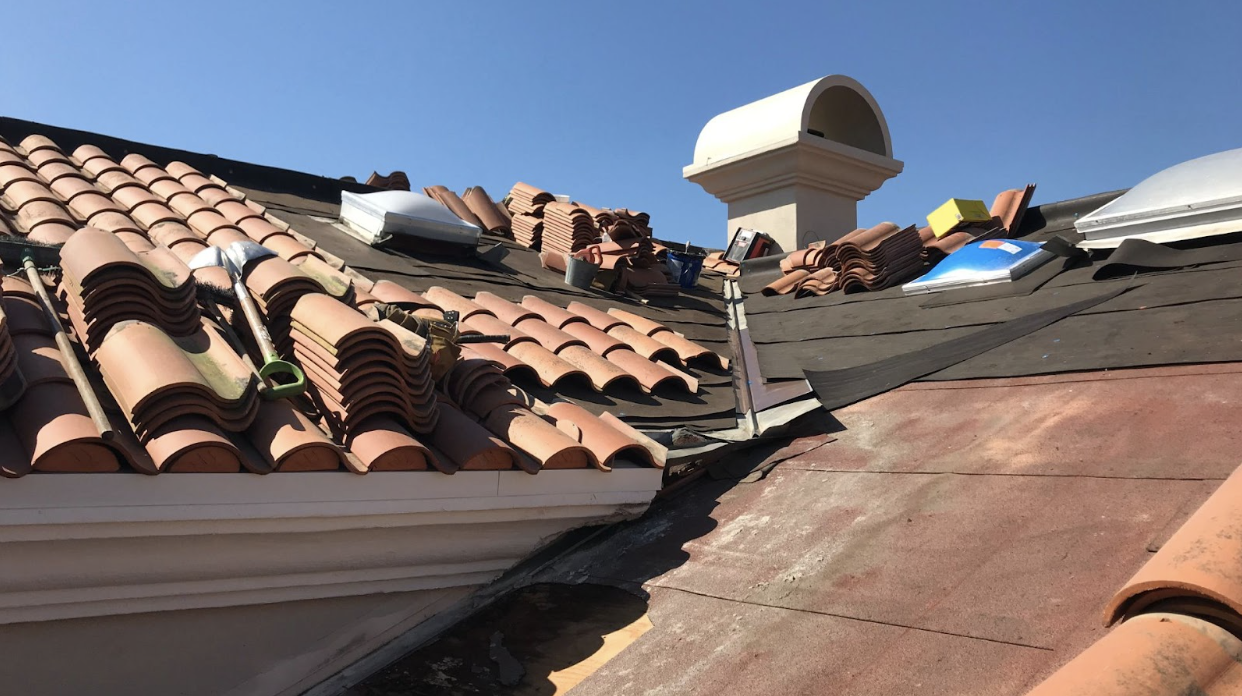 Most homeowners fail to realize they need a roofing replacement until their homes suffer damage, including leaky roofs, ceiling stains, or rotting materials. If you discover such symptoms, turn to a professional roofing installation company. Their team can help you choose from numerous roofing replacement options—clay tile roofing, for instance, offers longevity, resistance to the elements, and more.
Augustine Roofing's team provides expert assistance for high-quality roofing installations, fast roof repairs, skylight installations, and more. We are proud to serve homeowners throughout Brambleton, VA. No matter what roofing products you are considering, we can help you make an informed decision. Receive a free roof installation project estimate and call (703) 281-7663 today!
Below, we discuss 5 reasons why homeowners should consider installing clay tile roofing:
1. Endurance
When maintained, clay tile roofing can last up to 150 years. Their secret to success lies in their ability to withstand severe weather conditions and the ravages of time. Thus, their design makes them suitable for virtually any climate.
Specifically, clay tiles have a strong reputation for withstanding heavy rains, dry conditions, freeze-thaw cycles, and hail storms. Moreover, their approximate absorption rate of 1% helps them resist mold growth and rot.
2. Fire & Insect-Resistant
In addition to their reasonable cost and straightforward installation, clay tiles resist fire and insect damage. This capability protects your roof and your home, maintaining their condition against the increasing effects of climate change.
3. Saves Energy
Clay tile roofing supports the environment and serves as effective insulation, as its thermal mass helps to regulate indoor temperatures better than other roofing materials. Also, no synthetic materials are part of its composition. Thus, clay tiles can be removed and then recycled.
4. Solar Protection Against Inclement Weather
Extreme conditions tend to wear most roofing materials quicker than calm ones. However, clay tiles can maintain their integrity during excessive heat and cold temperatures. Furthermore, they resist harmful ultraviolet radiation.
Compared to asphalt shingles and other roofing materials, clay tiles offer better solar reflectiveness and thus cool homes more effectively. The tiles reflect about 33% of the sun's radiant energy, whereas asphalt roofing only reflects 5–15% of the sun's rays.
5. Curb Appeal
The roots of clay tile roofing design lie in Spanish and Mediterranean cultures, both of which adapt well to contemporary housing styles. Clay tile complements many kinds of house siding, making it suitable for homes throughout Northern Virginia.
Specific clay tile styles are:
Mediterranean/Spanish style

Mission style

Interlocking shingles

French style
These options afford homeowners great flexibility to adapt the materials to structural shapes and exterior designs.
Roofing Installation Now Available in Brambleton, VA!
Choosing a material for your roofing installation is a significant investment. Therefore, ask Augustine Roofing's team to help you choose from our roof shingles and color options. Our professional roofing installation technicians offer over 2 decades of trustworthy experience. We have repaired numerous damages and installed diverse materials, and our team keeps clients updated throughout their projects. Schedule a fast roofing installation service in Brambleton, VA, at (703) 281-7663 today!