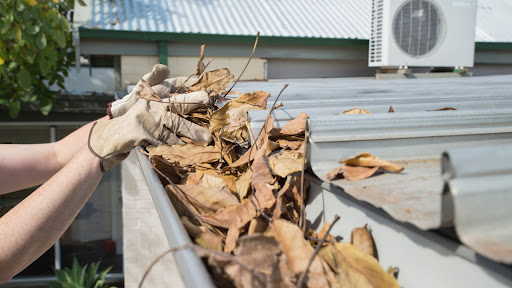 As you enjoy warmer weather and spring showers, check your gutters. Rain gutters protect your foundation by directing water away from them, so you must maintain those gutters to protect your home. That said, many homeowners are unfamiliar with the steps that functional gutter maintenance requires. Gutter installation, downspout cleaning, and gutter guard installation can help prepare your home for heavy rainfall.
Chantilly, VA, homeowners can rely on Augustine Roofing for reliable gutter installation services and other roof repair needs. Our team of expert roofers has 30+ years of experience working on roofing projects of all sizes as well as the highest standards of project management and craftsmanship. Call us at (703) 281-7663 for a free estimate on your next roofing project today.
Below, we detail how to get your gutters ready for spring rain:
Clean Debris Out of Your Gutters
Proper rainy season preparations include a thorough cleaning of your gutters. During the fall and winter, gutters can accumulate all kinds of debris, from dried leaves to twigs and dirt. This debris inhibits your gutters from channeling and directing water, thus endangering your home's foundations.
You should check your gutters as soon as weather conditions permit. Doing so can help you avoid the necessity of removing sticky clumps of wet debris late in the spring or summer. Alternatively, turn to roof experts who know where to look for such debris and can provide a complete cleaning service.
Inspect the Roof
Before they modify your gutter system, ask roofing specialists to check that your roof and skylights are intact. Roof damage can lead to issues with your drainage and increase the risk of water damage to your home. To help you identify roof damage, contact a professional team with extensive roofing knowledge for help.
Clear the Downspout
The vertical component in gutter systems, downspouts move water away from a structure. Although you may believe gravity keeps downspouts open, these channels can clog over time. So, check that your downspout is clear of debris before spring showers arrive. After all, the downspout protects your home from water damage—caring for it is in your best interest.
Seek Necessary Repairs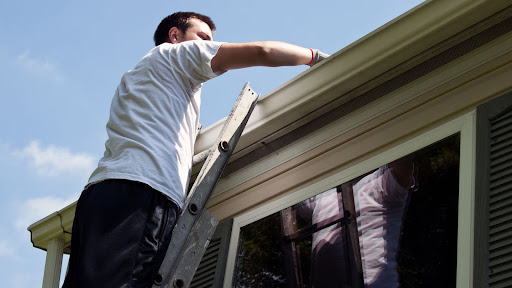 Gutters can suffer weather damage, distortion, leaks, and breakages—have your compromised gutter system fixed as soon as possible. A team of professionals can help you diagnose and solve the problem promptly. Gutter repairs are a worthwhile investment for your home's long-term protection.
Trim Trees and Bushes
As you may have guessed, most of the leaves in your gutters come from nearby trees. Therefore, trimming those trees before spring showers and gusts can mitigate the amount of debris in and around your gutters. It may not keep all leaves out, but every little bit helps.
Have Gutter Guards or Screens Installed
Gutter screens and guards are plastic covers installed over gutters that prevent debris from entering the receptacle (though rain can pass through). Effective against large leaves and sticks, they do not protect from smaller debris such as pine needles and seeds.
Various types of gutter guards can keep your gutter system clean. For instance, surface tension guards almost cover up the exposed gutter channels, though their installation is tricky. Fine mesh gutter guards are easier to install yet require frequent cleaning and maintenance. No matter which you choose, rely on service professionals for installation.
Gutter Installation Services in Chantilly, VA
With decades of experience and an extensive list of satisfied clients, Augustine Roofing stands out among the best roofing companies in Chantilly, VA. From professional gutter installation to providing the best materials for roof repairs, we have the knowledge and skill required to deliver exceptional results. Homeowners who choose Augustine Roofing know their property is in good hands. Call us at (703) 281-7663 to start your next roofing project today.